If you love listening to music while driving, you know how important it is to have a good car audio system.
A car amplifier is a crucial component of your car's sound system that enhances the audio quality by increasing the signal's power. It can greatly affect the sound quality – especially if you use high-end speakers.
In this article, we'll discuss the best car amplifiers currently available in the market, including their features, specifications, and pros & cons. So, without further ado, let's get into it!
Top 8 Best Car Amplifiers
Here are the eight best car amplifiers that you can get your hands on:
The BOSS R1100M Amplifier is an exceptional product for upgrading a car's audio system.
This high-output monoblock amplifier can deliver outstanding performance with a maximum power output of 1100 watts and a MOSFET power supply.
Additionally, it is 2 to 8 ohm stable and comes with a switchable bass boost, low-pass crossover, and low and high-level inputs. This amplifier also features a remote subwoofer control and a blue, illuminated BOSS logo.
Not only does this amplifier deliver impressive performance, but it is also designed to be compact and easy to install. Its dimensions are 9.13×10.44×2, and the Class A/B amplifier technology ensures that the sound quality is clear and powerful.
The variable low pass crossover allows for customized sound, while the switchable bass boost adds an extra kick to the bass.
Pros:
High-output monoblock amplifier
Compact and easy to install
Class A/B amplifier technology
Variable low pass crossover
Cons:
Looking for a budget-friendly car amplifier that is easy to install and delivers high-quality sound? Consider the Pioneer GM-D1004.
This 4-channel amplifier boasts a compact design and maximum power output of 400W. Its Class-D technology ensures efficiency and compatibility with the receiver circuit.
The Pioneer GM-D1004 is equipped with a refined Class FD design, which provides extreme efficiency and excellent sound quality.
It also features variable low-pass and high-pass filters for customized sound adjustment. Additionally, the amplifier is bridgeable, allowing you to power a subwoofer while still driving front speakers.
The GM-D1004 is CEA-2006 compliant and comes with input sensor technology, making OEM integration a breeze.
It has a low-current input for 15A and a protection control system to prevent overheating during large output. Speaker line input sensors eliminate the need for additional adapters.
Pros:
Budget-friendly
Efficient Class-D technology
Customizable sound
CEA-2006 compliant
Cons:
A limited number of channels
The Alpine PDX-V9 digital amplifier is a high-performance 5-channel amplifier specially designed for car audio systems.
It offers 100 watts of RMS power to each of the four speakers and 500 watts to the sub-setup. The amplifier is engineered to deliver superior fidelity with low noise levels using robust internal components.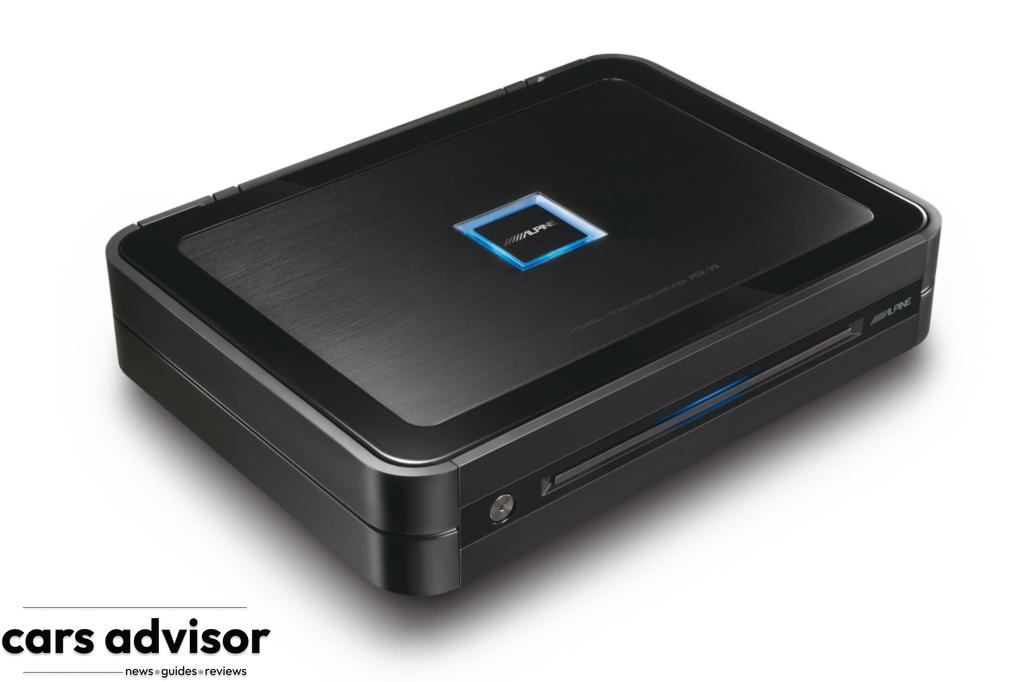 This amplifier can be configured as a 5-channel, 4-channel, or 3-channel amplifier and is stable down to 2 ohms in stereo and 4 ohms when bridged.
It is part of the new Alpine PDX Series, engineered to offer exceptional sound quality, performance, and reliability for the true car audio enthusiast.
It boasts an ultra-low output impedance that delivers precise and tight bass for unmatched sound quality. It provides a clean and uncoloured sound with a signal-to-noise ratio of up to 95dB S/N at 1W and 122dB S/N at rated power.
Additionally, the PDX-V9 comes with a birth sheet that documents its true actual output.
Pros:
5-channel amplifier
Delivers exceptional fidelity
Stable performance
Ultra-low output impedance
Cons:
The Kicker 43CXA600.1 is a powerful and affordable Class-D mono subwoofer amplifier capable of providing up to 600 watts RMS to a subwoofer.
With a 2-ohm stable single-channel design, it can handle 600 watts at 2 ohms for 1 channel or 300 watts at 4 ohms, and it is compliant with CEA-2006 standards for power output and signal-to-noise ratio.
To ensure optimal performance from your sub/enclosure combination, the Kicker 43CXA600.1 features a variable low-pass filter and a fixed subsonic filter that removes extremely low distorting resonances.
Additionally, the amplifier comes equipped with a variable bass boost using KickEQ, which allows for an extra 12dB of the bump with a simple turn of the optional CXRC Remote Bass Controller.
Preamp RCA outputs also permit daisy-chaining of multiple amps, while included brackets make vertical installation possible, saving space in your vehicle.
The Kicker 43CXA600.1 is highly versatile, featuring high-level and low-level input sensitivity. This reliable and robust amplifier can deliver strong bass to your subwoofer.
Pros:
Affordable and sleek design
Powerful output
Various input sensitivity
Preamp RCA outputs
Cons:
Limited to mono output only
The Kenwood KAC-M3004 amplifier is a digital 4-channel amplifier ideal for use in vehicles such as cars, motorcycles, and boats.
This compact Class D amplifier delivers a power output of 50 watts RMS per channel at 4 ohms, 75 watts RMS per channel at 2 ohms, or 150 watts RMS per channel at 4 ohms bridged.
The amplifier complies with CEA-2006 standards and has a signal-to-noise ratio of 76dBA. Its maximum power output is 600W.
The KAC-M3004 is designed to be compact to fit into even the smallest installation areas. The circuit board is coated with a conformal coating to protect it from moisture, making it suitable for use in tough environments. The amplifier also includes a signal-sensing turn-on feature.
Additionally, the KAC-M3004 has a built-in variable low-pass filter and a built-in variable high-pass filter – with a filter selector that allows you to choose between LPF-OFF-HPF. The RCA input sensitivity is 0.2-5.0V, and the speaker level input sensitivity is 4.0V-12.0V.
Pros:
Easy installation in tight spaces
Conformal coating
Signal-sensing turn-on feature
Built-in variable filters
Cons:
Regarding versatility, the Rockford Fosgate R600X5 Prime 5-Channel Amplifier takes the top spot. This high-performance car audio amplifier is designed to power an entire car audio system.
With a 5-channel design, it delivers 75 watts into its four channels. Plus, it can produce up to 300 watts into 2 ohms in its dedicated subwoofer channel.
The R600X5 utilizes Class A/B amplifier topology, which combines a Class A preamp and a Class B output stage. It has 2 two-channel full-range amps and a mono-subwoofer amp built into a single chassis.
The rear and front amps are Class A/B with identical but independent controls for punch EQ, crossover, and gain.
This rugged amplifier is a top performer from Rockford Fosgate, capable of driving four speakers with 50 watts RMS each while also powering a subwoofer with up to 300 watts RMS.
Additionally, it features a bridgeable design that allows it to be used in 2-channel mode to drive a pair of high-performance speakers.
Pros:
5-channel design
Class A/B amplifier topology
Capable of driving four speakers
Bridgeable design
Cons:
One of the best power amplifiers on the market is the Hifonics ZXX-3200.1D. This Class D amplifier can deliver up to 3200 watts of power – specifically designed for subwoofers and subwoofer systems.
It is 1 ohm stable, meaning it can handle a load of 1 ohm without overheating or shutting down. Additionally, it has a low noise preamplifier that allows maximum low voltage signal from the source unit to come into the amplifier circuit with minimal distortion.
The Hifonics ZXX-3200.1D amplifier also features a mono mode – built for driving subwoofers and subwoofer systems.
Its high efficiency and power are packed into a small footprint thanks to its use of PWM MOSFET power supply technology, which provides stable power through the PC board with minimal heat generation.
This amplifier has a variable electronic crossover with a boost EQ and comes with a bass remote that allows for easy control from a distance.
Plus, the classic Hifonics aluminium heatsink helps dissipate heat and keep the amplifier cool, making it easy to install with the user manual's detailed instructions.
Pros:
High power output
Low noise preamplifier
Compact size
Bass remote for easy control
Cons:
Designed specifically for subwoofers and subwoofer systems
Looking for a powerful and compact amplifier that can fit in any vehicle and improve your in-car music experience? The Alpine S-A60M S-Series Class D Mono Amplifier might be just what you need.
Based on Alpine's intelligent amplifier platform, this amplifier ensures superior sound reproduction and precision imaging.
Thanks to its improved heat sink and protection circuit design, the S-A60M can eliminate thermal shut-down so that you can enjoy your music without interruptions.
You can pair it with Alpine's advanced S-Series speakers and subwoofers to create a sound system that takes your in-car music experience to the next level.
With preamp and speaker-level inputs, the S-A60M is easy to install in almost any vehicle -even if it has a factory radio.
It also has a variable bass boost, which allows you to adjust the bass according to your preferences. The frequency response is 10Hz-400Hz, and the damping factor is not specified.
Pros:
Powerful and compact amplifier
Superior sound reproduction
Advanced technology
Adjustable bass boost
Cons:
How to Choose a Car Amplifier?
Choosing a car amplifier can be challenging, especially for those unfamiliar with the technical aspects of car audio systems. However, considering a few key factors can help you make an informed decision.
Number of channels
The first thing to consider when choosing a car amplifier is the number of channels needed for your speakers and subwoofer. A channel refers to a separate audio signal that can be amplified independently.
Amplifier class
There are four main classes of amplifiers: Class A, Class B, Class AB, and Class D. Class A and B amplifiers are not commonly used in car audio systems, as they are less efficient and produce more heat. Class AB and Class D amplifiers are the most popular choices for car audio systems.
Power output
Power output is measured in watts and is essential when selecting an amplifier. You should choose an amplifier with a power output that matches your speakers' power handling capabilities. For example, if your speakers can handle 100 watts of RMS, select an amplifier that can output at least 100 watts of RMS per channel.
Size and form factor
The size and form factor of the amplifier are also essential considerations. You should select an amplifier that fits in your car and is easy to install. Some amplifiers come with a compact design that can fit under the car's seat, while others require more space.
Conclusion
When upgrading your car's sound system, a high-quality amplifier can make all the difference. This article has compiled a list of the best car amplifiers to help you find the perfect one for your needs.
No matter which car amplifier you choose, consider your specific needs and the specifications of your car's sound system!
Frequently Asked Questions – FAQs
Can I install a car amplifier myself?
Yes, it is possible to install a car amplifier yourself. However, it is important to note that installing a car amplifier can be a complex process and may require some technical knowledge. If you are not confident in your ability to install the amplifier yourself, it may be best to seek the help of a professional.
Can a car amplifier damage my car's electrical system?
Yes! A car amplifier can damage a car's electrical system if not installed or used properly. For example, if the amplifier is not grounded correctly, it can cause electrical interference and damage to other components in the car. Additionally, if the amplifier is not compatible with the car's electrical system, it can cause damage to the battery or alternator.